Three High End Restaurants in Phoenix, Arizona
Durant's, located at 2611 N. Central Avenue in Phoenix, Arizona, is an iconic place that oozes history from the minute you walk in the door.  It is said that the founder, Jack Durant, got his beginning as a mobster.  Whether the stories are true or not, everyone who knew Jack Durant will agree that the stories he told were whoppers!
The décor of Durant's is reminiscent of casinos and brothels that harkens back to the days of Chicago and Las Vegas in the 1930's.  The tabletops are black, and the booths are made of tuck-and-roll leatherette.  The walls are covered with red flocked wallpaper and dark panels harkening back to the smoke-filled rooms where murders were planned.
Jack Durant was once listed on the Federal Bureau of Investigation's Top Ten Most Dangerous Men in Arizona.  There have been books and a stage play about his life.  He had a passion for baseball but was never able to play professionally.  People liked to say he was a complicated man who could break someone leg then pay the hospital bill.
Say what you will about Durant's.  This place was opened in 1961 and has not changed much.  It is an upscale restaurant with almost thirteen hundred positive reviews online giving them well over a four-star rating.
The Stockyards is located at 5009 E. Washington Street in Phoenix, Arizona.  It is considered the original steakhouse in Arizona.  The history is fascinating as in 1919 the "Cattle Baron", Edward A. Tovrea, opened the world's largest feedlot next to his packing house which consisted of close to forty thousand head of cattle on two hundred acres of cattle pens.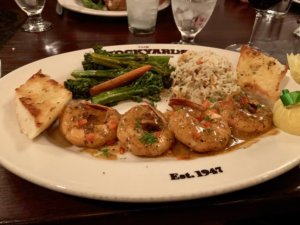 The Stockyards Restaurant was first opened in 1947 where it thrived because of bankers, cattlemen and politicians.  In the 1950's, much of the cattle pens were torn down and the land became part of the urban growth in Phoenix.  Sadly, The Stockyards suffered devastation from a fire in 1953, however, with the dedication of Helen Tovrea, it was reopened in 1954 much to the delight of the citizens.
The Stockyards Restaurant go a much-needed face lift in 2004.  The restaurant was revitalized and restored and added to the City of Phoenix Historical Register.  The rich history has given them over twelve favorable evaluations on the world wide web and a four-point-four rating.
Mancuso's Restaurant, located at 201 E. Washington Street, Suite 201 in Phoenix, Arizona.  Fran Mancuso is the Director of Operations and remembers the day her father, Frank, said they were packing up and moving to Phoenix from Auburn, New York.  That was in 1964 and Fran was only twelve years old.  While she originally fought the move, she has now become an intricate part of Phoenix.
Fran's father had no experience in the restaurant industry as he was an executive for a large corporation.  However, he recognized his wife's dream of opening a dessert parlor.  After borrowing one thousand dollars from Agnes' parents, they opened their first place serving, among other sweet treats, Italian Fruit Ices.
The place took off and after a few years, they were encouraged by their clientele to expand the restaurant to serve pasta dishes and sub sandwiches.  Over the years, they have opened restaurant all over Arizona and California including Mancuso's.  They may have only three hundred and forty-three posts on the internet but those who have posted have given them well over a four-star rating.
This article has been brought to you by Phoenix Hood Cleaning.  They have been serving Phoenix and the surrounding areas for several years with customers who would not trust their commercial kitchen exhaust system cleaning to any other company.  Restaurant hood cleaning is key to keeping a commercial kitchen running to its maximum efficiency.